The Women Behind NYC Monuments
The Fountains They Inspired
During the day, the fountains' waters dance, sparkling as they reflect sunlight and brighter skies. Against night skies, they are illuminated with a subtle glow – a serene presence against the city's bright glare.
Most of us do not know the fountains by their official names, calling them informally as "The Fountain in Central Park with the Angel, " "The Fountain in Bryant Park," "The Fountain in front of the Plaza Hotel". But when first-time visitors to New York City see them, they are awed into exuberant joy or meditative silence. And for long-time residents, the mere sight of them produces a calming effect, inviting one to slow down and gather what is essential within.
These are the landmark fountains we tend to seek for our photographs, gather around for our comfort, and perhaps listen for the magical sounds — the cascades — that resonate with us, bringing us to primeval times when we were more attuned to water's message, fortified by its power. And at a time when we seek more public immortalizations of women represented by lifelike monuments, these fountains — for, from, and about women — remind us that beyond form there is the essence – embodied in water and its gentle ripples — of what these women each brought to our lives: an abundance of grace, of nurture, of beauty.
Bethesda Fountain's Angel of the Waters Sculpture (1868)
Location: Central Park
Inspiration: Emma Stebbins, Sculptor
Distinction: The first woman awarded a commission for a major public work in New York City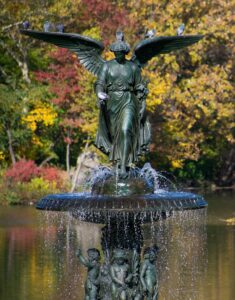 "An angel descending to bless the water for healing, seems not inappropriate in connection with a fountain; for, although we have not the sad groups of blind, halt and withered waiting to be healed by the miraculous advent of the angel, we have no less healing, comfort and purification, freely sent to us through the blessed gift of pure, wholesome water, which to all the countless homes of this great city, comes like an angel visitant."
For a sculpture as prominently-filmed, world-famous and sought-after as Central Park's Angel of the Waters, it is surprising that so little is known of the creator behind this masterpiece. The sculptor happens to be Emma Stebbins (1815-1882) who, in being the first woman behind the earliest public artwork for an 843-acre park's centerpiece, worked on the design of the statue from 1861 until its completion in 1868.
When Frederick Law Olmstead and Calvert Vaux originally submitted their 1858 master plan for Central Park, they only called for one monument. The subject of this important sculpture was not, as one might expect it to be, a Founding Father or New York political figure. Rather, they chose what they considered the most significant moment in New York history: the 1842 opening of the Old Croton Aqueduct. The Central Park Commission also chose an unlikely sculptor to complete the fountain project: a relatively unknown artist and the first woman to receive a commission for a major work of art in the city.
The fountain celebrates the 1842 opening of the Croton Aqueduct, which brought fresh water from Westchester County into New York City as the city continued to reel from the onslaught of the Cholera epidemic a decade earlier and disease outbreaks from contaminated drinking water. Emma likened the healing powers of the biblical pool to that of the pure Croton water that cascades from the fountain, supplying fresh water to a city that had long been plagued by infectious diseases caused by an unsafe water supply.
At the dedication, the brochure quoted a verse from the Gospel of St. John 5:2-4: "Now there is at Jerusalem by the sheep market a pool, which is called…Bethesda…whoever then first after the troubling of the waters stepped in was made whole of whatsoever disease he had." The lily in the angel's hand represents purity, while the four figures below represent Peace, Health, Purity, and Temperance.
References:
"Overlooked No More: Emma Stebbins, Who Sculpted an Angel of New York" by Jennifer Harlan, New York Times (2019) Link
"The Biblical Story Behind New York City's Modern-Day Pool of Bethesda" by Alexandra Chipkin, Guideposts (2020) Link
"Bethesda Fountain – Angel of Waters" https://centralpark.org/bethesda-fountain-angel-of-the-waters/
Bethesda Fountain | Central Park by Central Park Conservancy Link
"Lesser-Known Tales of the Old Croton Aqueduct: The Angel of the Waters" by Katherine Gates,Friends of the Old Croton Aqueduct Link
The Josephine Shaw Lowell Fountain (1912)
Location: Bryant Park
Inspiration: Josephine Shaw Lowell, Charity Worker and Social Reformer
Distinction: The first woman to be honored by a major monument in New York City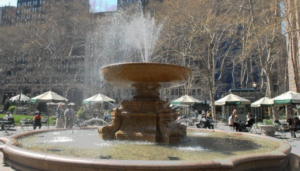 "Common charity, that is, feeding and clothing people, I am beginning to look upon as wicked! Not in its intention, of course, but in its carelessness and its results, which certainly are to destroy people's character and make them poorer and poorer. If it could only be drummed into the rich that what the poor want is fair wages and not little doles of food, we should not have all this suffering and misery and vice."
Hailing from a family of intellectuals, philanthropists, reformers and Abolitionists, Josephine Shaw Lowell (1843-1905) excelled in the arena of social reform, chiefly although not exclusively in New York State and New York City charities and correction. Her aim was to cure pauperism, and her strategies eventually led her to support higher wages and full employment.
Her inclination to help others was evident at a very young age. By the time she was thirteen, she began assisting a poor settlement of Irish families in her neighborhood by offering treats at her home. In her late teens, she joined her mother in the Woman's Central Relief Association in New York City, which packed clothes and food for soldiers.
Josephine began her lifelong charitable work by seeking to advance African American education. Throughout her lifetime, she volunteered with and founded numerous charities, dedicated to improving the lives of the under-privileged, promoting her view that giving charity was not enough—people needed to be helped to become self-sufficient. Deeply interested in the social problems of New York City, Josephine spent more than three decades visiting prisons and poorhouses, campaigning for parks and better schools, and fighting for civil service reform and the rights of workers, advocating for better working conditions and wages for working women.
Lowell's list of affiliations and accomplishments is lengthy. The highlights of the causes for which she fought during her lifetime are as follows: improved care for the insane; benefits for dependent children and widows; improved reformatories; police matrons for women prisoners; the emancipation of labor; advocacy of settlement houses; civil service reform; consumer's rights; and anti-imperialism. All this she did within the established context of society.
Lowell's efforts significantly improved the quality of life, particularly for women. Among the many charitable  organizations Josephine founded are the New York Charity Organization in 1882, the House of Refuge for Women (later known as the State Training School for Girls) in 1886, the Woman's Municipal League in 1894, and the Civil Service Reform Association of New York State in 1895. In 1890 she founded the New York Consumers' League that strove to improve working conditions for women by encouraging consumers to purchase items made and sold by companies that treated their workers well. The umbrella organization, the National Consumers League, became a powerful lobbying group, instrumental in passing the Fair Labor Standards Act.
References:
Pulitzer Fountain (1916)
Location: Grand Army Plaza along Fifth Avenue
Inspiration: Audrey Munson, Model and Actress
Distinction: The first woman chosen by over 200 artists as their muse to personify the nation's ideals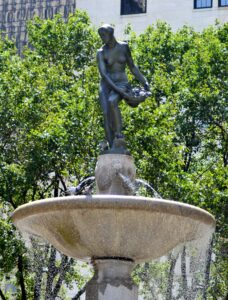 "I am wondering if many of my readers have not stood before a masterpiece of lovely sculpture or a remarkable painting of a young girl, her very abandonment of draperies accentuating rather than diminishing her modesty and purity, and asked themselves the question, 'Where is she now, this model who has been so beautiful?'" she wrote in one article. "'What has been her reward? Is she happy and prosperous, or is she sad and forlorn, her beauty gone, leaving only memories in its wake?'"
As the most well-known muse of early 20th-century America, Audrey Munson (1891-1996) held affixed labels as "The First Supermodel", "Miss Manhattan" and "The American Venus," ushering in the Age of Celebrity, its ramifications thundering in exponential scale to present times. The exploitative commemoration of a young woman's Facade, at the expense of a protected nurture of her Essence, render her introspections on the pursuit of art and beauty in a hostile world all the more poignant.
A conscientious and hardworking young woman— one who was aware of the temptations in her chosen field but who lived a virtuous and cloistered life — Munson quickly became one of New York's most prolific early models, posing for statues and monuments by innumerable photographers, illustrators, painters, sculptors nationwide. Her classical features can be found in bronze, copper, and marble across New York City's most prominent landmark structures, the most striking and visible in Adolph Weinman's Civic Fame, a 25-foot gilded copper statue atop the Manhattan Municipal Building, and in the figure of Columbia atop Central Park's Maine Monument.
It is, therefore, with irony that it is Audrey's image and nude figure — sculpted in bronze as the allegorical figure of Pomona, Roman goddess of abundance — which reigns over the public plaza instructed by powerful journalist and publisher Joseph Pulitzer as a testament to his dominion. Against Pulitzer's blatant self-advertising, sensationalistic journalism and posthumous message of wealth and material comforts, it is Audrey's serene personification of the ideals of Pomona — seen holding a basket of fruit — that humbly but pointedly stands as an instrument of truth and timelessness conquering falsehoods and trivialities.
Manifesting Pomona's simplicity devoid of materialism's lavish clothing or encrusting adornments, the quality of sublime art and flawless beauty that Audrey found elusive in her hostile world was, in all this time, always within her. "Where is she now, this model who has once been so beautiful?", she once despondently asked, the shadow of uncertainty dampening her hopes. If she only knew of the adulatory linger of ideals her life inspires for our times, she would have her comforting — and glowing — answer.
Sources:
Where monuments, memorials and markers often go unnoticed, and where memories of the individuals they represent may eventually fade, these landmark fountains beckon to all, offering the gift of time, a pause to rethink, a soothing toward regaining life. As you sit by one, relishing the meditative effect of its waters, we leave you with a few lines from a lovely poem by James Russell Lowell. It is an ode to a fountain … but if you listen to its message closely enough, the sentiments also offer a tribute to the qualities of the women who inspired that water's spirit.
Ever in motion,
Blithesome and cheery.
Still climbing heavenward,
Never aweary
Glad of all weathers,
Still seeming best,
Upward or downward,
Motion thy rest;—
Full of a nature
Nothing can tame,
Changed every moment,
Ever the same;—
Ceaseless aspiring,
Ceaseless content,
Darkness or sunshine
Thy element;—
We welcome you to join us on our Manhattan Walking Tour walks to follow the trails and legacies of more women — luminaries and legends who, during this month, always come to the forefront of our accolades, tributes, celebrations and gratitude. A stroll through Historic Downtown or Brooklyn Heights reacquaints us with Emily Roebling's engineering feats for the Brooklyn Bridge. Chinatown introduces us to Kwan-Yin, a Goddess representing one of many women in our world's pantheon of mythological deities who hold powerful roles in controlling destinies. Greenwich Village amazes us with its roster of female artists and reformers, but also sober us into remembering the young Jewish and Italian immigrant women who died in the Triangle Shirtwaist Factory Fire. Times Square overwhelms us with the sheer infinity of female stars of the Broadway stage, who have moved and entertained us with immeasurable talents. The culinary havens of Hell's Kitchen bring us back to home-kitchens of immigrant mothers, nurturing us with gastronomic feasts inherited from worlds left behind. Central Park highlights the trailblazers for female emancipation and the expansion of women's rights in NYC through Elizabeth Cady Stanton, Susan B. Anthony, and Sojourner Truth. And Grand Central Terminal finds us paying homage to Jacqueline Kennedy Onassis, for heightening our awareness toward honoring and preserving ancestral legacies of ideals and aspirations manifested in architectural creations.