Our Manhattan Walking Tour Family
Being a third-generation New Yorker, you would think Alex knew enough about NYC.
WRONG! After traveling and living abroad in Europe and Australia for four years, he came back to New York City on a mission to learn everything about the history and culture he always took for granted. He had so much fun showing visiting friends from across the globe around the city that he decided to become a licensed guide and share his knowledge with a broader audience on the best walking tour of New York. ​
Within minutes of meeting Alex, you will feel like you have known him forever — that's how comfortable he makes people who take walking food tours with him. He also loves finding the best craft beer bars and whiskey flights in New York, then passing that knowledge along to his guests. So whether you need a great NYC bar or fabulous Manhattan restaurant, this is the guy to ask.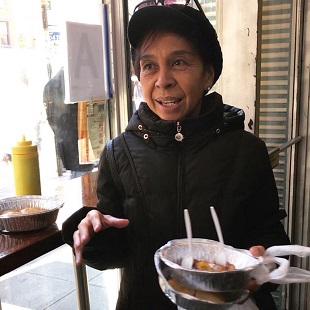 Don't let her demure stature fool you. Annabel is a giant ball of energy with an even bigger wealth of knowledge. She often thinks of what Alice might observe, had Lewis Carroll brought her adventures into NYC's engineered Wonderland. Engaging fellow travelers in a joyful exploration of the city's surprises, her conversations touch on myriad discoveries, overlooked milestones, and unsung pioneers, all the while pointing out NYC's best, often hidden, culinary delights. She is still pursuing her lifelong interest in mapping information and visualizing data and remains involved in creative projects on educational game design.
Nancy had been happily acting as a city ambassador to friends and family visiting New York — particularly Broadway — for years before following her sister's advice to actually "go pro" and become a licensed NYC tour guide. She enjoys the personal interaction of a walking tour with a small group and especially loves sharing the stories behind New York's famous landmarks and attractions. Nancy is also a professional dancer and choreographer and will pirouette down the sidewalk for you if you ask nicely. If your focus is dance and/or theatre, be sure to request Nancy by name as your tour guide.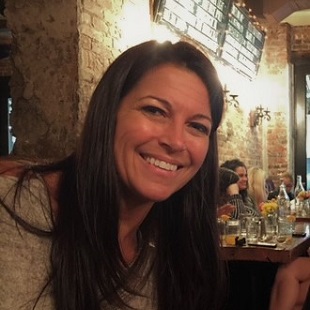 Jenn has been living in NYC for 11 years and is also a singer/dancer/actor. She first got interested in becoming a tour guide after working in the new One World Observatory. Armed with the knowledge learned from working there and her further explorations of NYC, she decided to take the test to become a tour guide and then became a walking tour guide. It is her favorite job outside of the theater. Her love of history and NYC is what drives her to continue learning new information. Her favorite parts of the city are Greenwich Village and Historic Downtown, both of which are steeped in history and fascinating stories.
Claire moved to New York over seventeen years ago, and is never leaving. She is proud of her adopted city, and is passionate about showing visitors all the reasons to love it as much as she does. Mainly through snark and humor. As an actor and comic, her focus is the human stories that really bring history to life. People are funny, and they always have been (even the big fancy historical ones)!
Some of her all time favorite restaurants (some are bars) are -Caracas (East Village), Loring Place (Greenwich Village), Alma (Brooklyn), Mamoun's (East Village), Chavella's (Brooklyn), Weather Up (Brooklyn & Tribeca), DSK (Brooklyn), Barrio Chino (LES)
Tom Schilkie
Tom
 grew up just across the Hudson River in New Jersey, and always thought New York City was the most fascinating place on Earth. He started taking the bus into Manhattan at 10 years old just to go to the Museum of Natural HIstory. He moved to the City at 17, met his wife on the first day of college, and went on to hold almost every New York City-ish job there is, including driving a cab and working on Wall St. In the end, though,
it was his love of New York City history that brought him to giving tours.
He enjoys meeting people from all over the world and showing them around one of the most diverse cities on the planet.
Jake Wallace
Whether it be the rom-coms he grew up watching, his love of the Percy Jackson series, or his passion for theater, 
Jake
 always knew he would one day call NYC home. Throughout his childhood, he spent many days planning dream trips to New York and discovering all the secrets the city had to offer. After graduating with a degree in theater performance, 
Jake
 finally made his way to the city! While working at Schmackary's Cookies, fate walked in the door in the form of Manhattan Walking Tour. After several chats with the guides,
he knew being a tour guide was the job for him! 

Jake

's favorite part of being a tour guide is finding ways to connect the stories of the past to our modern way of life; to put guests into the shoes of New Yorkers' past and help them discover new things about this incredible place that has shaped so much of our history.
When he's not doing tours, you can usually find him officiating weddings, grabbing a bagel at Brooklyn Bagel, or seeing a show!