The Art and Mastery of Celebrating "Green"
Magical Hues of Irish Revelry
"Each life is a unique blend of energy that colors the planet." – Lauren Roedy Vaughn
Long before the St. Patrick's Day of our times was lavished with the celebratory "green" of shamrocks, leprechauns, mint-tinged cocktails, Irish independence, and a parade of iconographies capturing hues as verdant as the landscapes of an Emerald Isle . . . there was the symbolic "blue" of myth, legend and imperial history, one that continues to recognizably linger as a feature in Ireland's state symbols. It is the color worn by Flaitheas Éireann, the embodiment of Irish sovereignty, as represented by a woman in a blue robe inspired by Ireland's Queen Gormfhlaith (10th Century); it is the azure found in a medieval manuscript's detailing of St. Patrick's garments (13th Century); and it is that sky-blue's variegated shades, tones and hues that gradually made their way to the cassocks of St. Patrick's Cathedral Choir in Dublin (1432), Ireland's heraldic Coat of Arms as the Presidential Standard (1542), the chivalric Most Illustrious Order of Saint Patrick (1783) , the Irish Citizen Army's flags and armbands (1916), the Irish national teams' sports kits (1921), the bound book of the Irish Constitution (1937), the racing colors of horses at the Irish National Stud (1945), as well as the carpet in both the Seanad and Dáil of Ireland's National Parliament.
The presence of "St. Patrick's Blue", as the color originally came to be named for Ireland's patron saint, was so revered for its mythical stature and range of spiritual symbologies, that no matter the color's manner, place and degree of manifestation, it was unquestioned in its application. With the earliest European pigments derived from minerals (e.g. lapis lazuli, cobalt and azurite), or plants (e.g. knotweed leaves, woad rosettes, or cornflower blooms), the color represents— as it still does — seas, sky, bravery, loyalty,serenity, stability, royalty, aristocracy and infinitely more.
With so little to dispute the color's reign, it is therefore tempting to suspect that some secret legislation, decree or pronouncement may have played a role over how a majestic "blue" was dethroned by a sprightly "green" as the first (and only!) color that now comes to mind when thinking of all things Irish — at least in America. But lest we tunnel too much into the less-than-etheric realms of our own dubious legends for this cultural milestone, we simply set our sights to local ground where all was fertile for a transformative color-shifting upheaval.
According to the website of the NYC St. Patrick's Day Parade:
"The NYC St. Patrick's Day Parade is one of New York City's greatest traditions. The first parade was on March 17, 1762 — fourteen years before the signing of the United States Declaration of Independence. The first NYC St. Patrick's Day Parade was comprised of a band of homesick, Irish ex-patriots and Irish military members serving with the British Army stationed in the colonies in New York. This was a time when the wearing of green was a sign of Irish pride but was banned in Ireland. In that 1762 parade, participants reveled in the freedom to speak Irish, wear green, sing Irish songs and play the pipes to Irish tunes that were meaningful to the Irish immigrants of that time."
Thus we have the key brush stroke that overlay all else: the color "green" — as seen in St. Patrick's shamrock — would become a symbol of identity and rebellion for the Irish.
It would be "green" that would be more forcefully stamped in heart, mind and tradition, as the divide between the Irish colonists and the British crown further deepened through the late-1700s; as the number of Irish immigrants dramatically increased during the Potato Famine of the mid-1800s; as their soaring population forged a strong identity of political and economic might to build a fledgling metropolis in the decades thereafter. And it would be "green" that would catapult the celebrations of March 17 to widespread fame and stirring acclaim.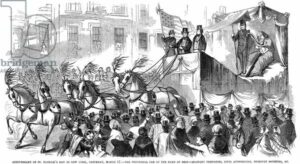 By the time of the earliest known illustrations of a St. Patrick's Day Parade in New York City (1860), the pomp and pageantry— swelling with an endless line of marching participants and attended by inestimable rows-deep crowds — had already echoed through generations, their published portrayals reinforcing a momentum toward invincibility. While the printed drawings of the era inherited artists' media of colorless pencil and ink strokes, there is no doubt that the symbology of "green" had its immeasurable force and power for a populace galvanized by the color's promise of growth, renewal, spring, rebirth, beginnings. "Green" embodied all that St. Patrick's emblem of an Irish "seamróg" would hold; all that was hoped for; all that was worth honoring.
Today, across the United States, millions of Americans of Irish ancestry celebrate their cultural identity and history — always joined in friendship and kinship with countless non-Irish folks — by enjoying St. Patrick's Day parades and engaging in general revelry. But no matter the exact date, time, place or person behind the ubiquitous donning of "green" as one March day's color of renown, it has us playfully musing and mulling, "Which Green best honors St. Patrick's Day: Shamrock Green? Irish Green? Emerald Green? Kelly Green?" . . . "What if St. Patrick's robe — as portrayed in the medieval manuscript — was not blue, but green? Which shade of green might have been chosen for his portrait?" . . . "How would you paint the music? the energy? the vibrations of festivities manifested in flags, hats, robes, accessories?" . . . "What would an orchestration of hues look like?"
So, in the respectful spirit of faerie-ish whimsy, leprechaunish mischief, and pure Irish humor— we invite you to spend St. Patrick's Day with a home activity that engages all youthful inclinations — be you ages 3-103. It involves three steps, for which we have provided a few resourceful tips. (And, yes, do have some Guinness, barmbrack, and Irish coffee nearby!)
Step 1:
Print out a Sketch of a St. Patrick's Day Parade in NYC by "Willie" (1894)
"In drawing, one must look for or suspect that there is more than is casually seen." George Bridgman, Painter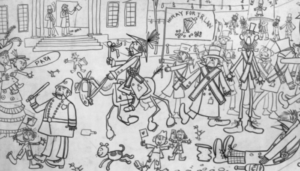 As if there was not enough wit and whim on display, the true artist of the sketch — famous newspaper cartoonist and satirist Thomas E. Powers — introduces a fictional co-artist and co-signer to imbue the work with childlike and rambunctious charm: a young schoolboy whom he names "Willie", crediting him by titling the work, "The day we celebrate. Our youngest contributor's idea of it."
Step 2:
Discover the Story Behind a Crayon Named Shamrock (1993)
"If one could only catch that true color of nature—the very thought of it drives me mad." -Andrew Wyeth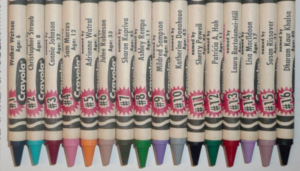 To celebrate its 90th Anniversary in 1993, Crayola would try something completely new and different. It would invite and engage the public in ways it had never done so before. The company would do away with its corporate design teams of color-naming experts, and instead release 16 unnamed shades to the whole world for their own "Name the Crayon" ideas. With nothing to lose, and much joy to gain in the process, 11-year old Patricia A. Hoh of Johnston, Pennsylvania was determined to participate in the contest, casting her idea onto the pile with hope and excitement.
Step 3:
Browse A Crayola Palette for Over 40 Shades of Green (Ongoing)
"I close my eyes and picture the emerald of the sea
From the fishing boats at Dingle to the shores of Dunardee
I miss the river Shannon and the folks at Skibbereen
The moorlands and the midlands with their forty shades of green . . ."
— Johnny Cash, Forty Shades of Green, 1959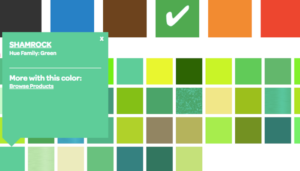 It was not enough for Crayola co-founders Mr. and Mrs. Edwin and Alice Binney, along with C. Harold Smith, to create and respond to the need for safe, high quality, and affordable paraffin wax crayons with nontoxic pigments. It was imperative that in concocting, compiling, curating, and crafting the right words to describe the hues and shades of an environmentally-friendly crayon, they would encourage our imaginations toward spheres of perception and insight we never thought ourselves capable.
As we complete the coloring of our St.Patrick's Day Parade sketch with the magical hues of Irish revelry — be this layered in shades of distinctive green … or playfully tinged with a touch of St. Patrick's Blue let us all celebrate those who unveil prisms of Nature's light and illuminations — enhanced, reflected, refracted, muted — in swatches and samples of infinite tones and shades for our world. From "Fern" to "Forest Green", from "Seafoam" to "Spruce", from "Inchworm" to "Asparagus" … these multitudes of "green" on crayons, colored pencils, washable watercolors, markers — with their digital counterparts of dizzying RGB, CMYK codes and HEX values — resonate deeply. Like tuning forks, they respond to our attempts at matching a color with a feeling, a creation, a thought, a wish, a hope, an ideal … be we leaders establishing principles, patriots defending a cause, or revelers simply deciding an outfit for a parade.
Beannachtaí na Féile Pádraig oraibh!
* * *
We welcome you to join us on our Manhattan Walking Tour strolls through the city, where we explore more of what Irish American Heritage has to offer. In Historic Downtown, we learn of Irish patriots serving during the Revolutionary War, Famine Ships landing at our ports, and the Irish Hunger Memorial paying homage to resilience overcoming despair. In Park Slope, Brooklyn Heights, DUMBO, Williamsburg, and Greenpoint, we hear stories of the resident Irish workers behind hundreds of the city's major construction projects — including the Brooklyn Bridge, NYC Subway System, Old Croton Aqueduct, Central Park, Empire State Building, and more! In Chinatown, we skirt around the early Irish communities of Five Points, St. James Church, and the street named for the Ancient Order of the Hibernians. In Greenwich Village, where once was another Irish community, we trace the steps of literary giants James Joyce, Eugene O'Neill, Oscar Wilde, and Dylan Thomas, while discovering iconic Irish pubs like White Horse Tavern and McSorley's. Around the Highline, Hell's Kitchen and Central Park, we follow the history of the Hudson River waterfront docks, where the Irish worked on the Erie Canal and in the shipping trade, along with hundreds of infrastructural milestones for which they were hired. And in Grand Central Terminal, we learn of Jacqueline Kennedy Onassis, without whom this architectural landmark and engineering marvel would not be around today.