Discover Landmarks, Architecture, and Artifacts of Greenwich Village (PT. 3)
A Hunt for a Neighborhood's Heritage Treasures
Imagine a walk that introduces you to one of New York City's oldest, largest, most historically rich and among the most highly picturesque and coveted neighborhoods. Located in lower Manhattan, this historic district of winding leafy lanes through a rich architectural palette now contains more than 2,000 buildings and stretches over 65 blocks. Along its irregular street grid — visible on the map as a remnant of its twisting 18th century pattern — we experience the neighborhood's origins as a Lenape fishing village, discover its transformation into a Dutch tobacco plantation, trace its development into a sleepy British country village, sense its sanctuary for an epidemic-stricken population in the early years of a new nation, and understand its mooring for waves of free Africans and early immigrants, before exploding onto the mainstream consciousness as a bohemian centre of renown.
Greenwich Village lingers as one such treasured destination of culturally distinct identity, one for which travelers continue make the pilgrimage on a quest to relive its reverberations. It still teems with perspectives brought to life by its many artistic characters and colorful lives reintroduced, as we meander through the remaining coffee shops, jazz venues, book shops, butchers and pastry shops they frequented. For discerning individuals on the hunt for long-sought insights on the forces driving the explosive creative evolution, fiercely independent character, and fearlessly uncompromising soul of New York City, a walk through this neighborhood of births is not only an essential, but an indulgence. Be we long-time residents, first-time visitors or settling newcomers, we come away the hidden legends behind coffee shops and jazz clubs, forgotten stories buried within archives of record stores and the Beat Generation's literature, and — in true NYC evolutionary fashion — we learn how Magnolia Bakery and Carrie Bradshaw's Home have become the most iconic structures redefining the neighborhood's prestige.
Here we present a few selected valuables packing a far-more abundant chest of heritage-treasures … all from which our inner-adventurer (or perpetual-child in constant quest of wonder) can deeply extract to a heart's content. With so much more that compels, a scouting pursuit for heritage treasures can prove to be an ongoing source of fascination — be this on your own, or among family and friends! As attentions are engaged and curiosities aroused for a hunt, here are some leads to get you off to a good start. Let us know what you've discovered that we overlooked or missed, coaxing us all into countless revisits and walks for more …
Archaeological Finds/Places or Artifacts of Note
For those intrigued by sites long demolished or buried, holding remnants or memories of past lives
City's Potter's Field, Washington Square Park (1797-1825)
Edgar Allan Poe's House (85 West Third Street, 1844 – 1846)
Tenth Street Studio Building (51 West 10th Street, 1857 – 1955)
The Minettas and Little Africa: First Freed Black Settlement (Minetta Lane, 1860s – 1870s)
Gertrude Vanderbilt Whitney's Studio (19 MacDougal Alley, 1907 – present)
Hess Triangle (1922 – 1938)
San Remo Cafe (93 MacDougal Street, 1925 – 1967)
The Village Gate (160 Bleecker Street, 1958 – 1994)
The Bitter End (147 Bleecker Street, 1961 – present)
Jimi Hendrix's Electric Lady Studios (52 West 8th Street, 1970 – present)
Architecture
For those fascinated by a city's evolving styles, reflecting cultural legacies over centuries
Stables and Carriage Houses
Issac Hendricks Brick-and-Woodframe House | Bedford Street (1799, Federal Style)

Jefferson Market Library C/O TimeOut NY

Rowhouses | Bleecker, Grove, Barrow, Horatio, 10th and 11th Streets (1785-1830, Federal Style)

Rowhouses | Washington Square North (1818-1850, Greek Revival)
Rowhouses | Perry Street (mid-late 1800s, Italianate)
Church of the Ascension (1841, Gothic Revival, Renaissance Revival)
Grace Church (1846, Gothic Revival)
Salmagundi Art Club (1853, Renaissance Revival)
First Presbyterian Church (1875, Gothic Revival)
Jefferson Market Library (1877, Gothic Revival, Gothic, High Victorian Gothic)
The Lockwood De Forest House | 7 East 10th Street (1887, Aesthetic Movement)
Washington Mews (1940s-1980s, Modernism)
Bayard-Condict Building (1899, Chicago School)
Artists' Studios, Skylights, Studio Windows (1850s – 1920s)
Art
For those allured by the range of visual, literary, and performance arts
Salmagundi Club (Founded 1871)
Washington Square Outdoor Art Exhibit (Founded 1931, held late May and early September)
Pictographic Maps of Greenwich Village by Robert Edwards for the Village Quill (1925), Frank Hanley for Manhattan Magazine (1933), Tony Sarg for Central Savings Bank (1934), Lawrence Fahey (1961).
Homes of Literary Icons (Edna St. Vincent Millay, Thomas Paine, e.e. Cummings, Edgar Allan Poe, Emma Lazarus, Mark Twain, James Baldwin, William S. Burroughs, Willa Cather, John Cheever, Hart Crane, Joh Dos Passos, Khallil Gibran, Robert Frost, Sinclair Lewis,E. B. White, Oscar Wilde, et. al.)
Artists' Studios (Edward Hopper, Berenice Abbott, Gertrude Vanderbilt Whitney, Chaim Gross, et. al.)
Legendary Clubs (Village Vanguard, Blue Note, Small's, Arthur's Tavern, Cafe Wha?, et. al.)
Whitney Museum of American Art (Founded 1930)
Watercolor Paintings of Greenwich Village by Kazuya Morimoto (Ongoing since 2005)
IFC Center (Opened 2005)
Beliefs
For those drawn to rituals in temples of worship, symbols in stone, traditions in communities
Second Cemetery of the Spanish & Portuguese Synagogue (Consecrated 1805)
St.Luke-in-the-Fields (Consecrated 1822)
Church of the Ascension (Opened 1841)
First Presbyterian Church (Founded 1716. Opened 1846)
Church of St. Joseph (Founded: 1829. Opened 1834)
Our Lady of Pompeii Church (Opened 1928)
Grace Church (Opened 1846)
Crafts
For those enthralled by overlooked skills of woodcarvers, glassmakers, bricklayers, masons, and more
Haverstraw Brickwork
Ironwork of Washington Square Lampposts
Ironwork of Bootscrapers and Railings
Bronze Door Knobs and Knockers
Stained Glass Windows of Grace Church (1846)
Stained Glass Windows of the Jefferson Market Library (1876)
The Lockwood De Forest House – No. 7 East 10th Street (1887, Aesthetic Movement)
The Bi-Annual Washington Square Art Outdoor Exhibit (Founded 1931)
The Family (Sculpture by Chaim Gross, Dedicated 1992)
Food Heritage
For those tempted to savor the neighborhood's culinary history at legendary sites
White Horse Tavern (1880)
Faicco's Italian Specialties (1900)
Porto Rico Importing Co. (1907)
Caffe Reggio (1927)
Ottomanelli & Sons (1956)
Murray's Cheese (1962)
Mamoun's Falafel (1971)
Pasticceria Rocco (1974)
Joe's Pizza (1975)
Infrastructure
For those lured into the design and engineering of public works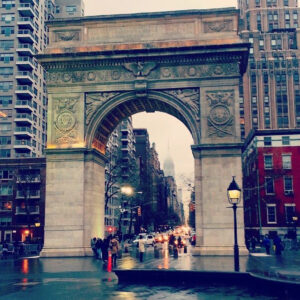 Landmarks
For those captivated by landmarks that define and signify milestones
Washington Square Arch
Washington Square Park
Washington Square North
Stonewall Inn
West Village
MacDougal Alley and Washington Mews
Jefferson Market Library and Garden
Grove Court
75 ½ Bedford Street | "The narrowest house in the Village"
Second Cemetery of the Spanish and Portuguese Synagogue
The New School for Social Research's "University in Exile"
Leisure
For those entertained by celebrations of games, parades, holidays, sports, and all things festive
The Fountain at Washington Square Park
Chess in Washington Square Park
Bleecker Street Playground
Halloween Day Parade
Gay Pride Parade
Monuments, Markers, Memorials
For those gripped by overlooked stories on building markers, sidewalk plaques, monuments
Washington Square Arch (Opened 1892)
Greenwich Village Historic District: Site Markers for Architecture, Patriots, Arts, Letters, Music
Monument to Giuseppe Garibaldi, Washington Square Park (Dedicated 1888)
Monument to Alexander Lyman Holley, Washington Square Park (Dedicated 1890)
Hess Triangle , 7th Avenue (Installed 1922)
Stonewall National Monument, Christopher Street (Opened 2016)
NYC AIDS Memorial (Dedicated 2016)
Myths, Legends, Oral Histories, Traditional Knowledge
For those entranced by forgotten tales behind street names, official seals, neighborhood rituals
The Legend of Hangman's Elm in Washington Square Park
The Lenape Myth of Manetta Creek
The Ghost of Aaron Burr and the Haunted Legend of One If By Land, Two If By Sea
The Ghost of Mark Twain and the Haunted Legend of 14 West 10th Street
The Story of the Hess Triangle
The Origin Myth of Murray's Cheese
Nature
For those enchanted by the impact of waterways, minerals, stones, flora, fauna, animals, birds
Hangman's Elm in Washington Square Park
Minetta Creek
The Hudson River
The Highline
The Jefferson Market Garden
The Public Parks of Greenwich Village: Abington, Jackson, Sheridan, and Washington Squares — most of which are actually triangles.
Secret garden at St. Luke-in-the-Fields
We welcome you to join us for a food & history tour of Greenwich Village to dig deeper into the yet-unearthed of both its tangible and intangible assets. Its stories are further interwoven with narratives at nearby neighborhoods of Meatpacking District, SoHo, Chinatown and East Village (The East Village is just across Astor Place and it's loaded with dives, grungy tattoo shops, and old-school record stores. Check out our guide to this popular neighborhood." ) and Lower East Side, which we invite you to further explore.
Should wanderings inspire more, complement your strolls with a visit to record stores for the music of the various eras, coffee shops where they might have frequented, and some bookshops for these few selections introducing overviews of Greenwich Village and its legacies:
Inside Greenwich Village: A New York City Neighborhood, 1898-1918 (2005)
by Gerald W. McFarland
The Village: 400 Years of Beats and Bohemians, Radicals and Rogues, a History of Greenwich Village
by John Strausbaugh (2013)
Greenwich Village Stories: A Collection of Memories Hardcover – Illustrated, March 25, 2014
by Judith Stonehill (Editor), Andrew Berman (Introduction), Mario Batali (Contributor)
The Municipal Archives, "Greenwich Village and the Square"
Esquire Managize: New York's Greenwich Village in the '60s: The Photos
by Matt Miller
Music + Revolution: Greenwich Village in the 1960s
by Richard Barone