Celebrating Greenpoint's "Little Poland"
A tribute to Polish-American Heritage
"In October, we celebrate Polish American Heritage Month in the United States. Our Nation owes an immeasurable debt of gratitude to the millions of freedom-loving Poles who have come to our shores to build a new land. Polish Americans can be justly proud of the vital contributions people of Polish descent have made to our Nation in the arts, the sciences, religion, scholarship, and every area of endeavor … The military genius of Kosciuszko and Pulaski was essential in the defense of our freedoms in the Revolutionary War. Since then, millions of Poland's sons and daughters have helped build our country's prosperity and defend our liberty."

From The American Presidency Project, Proclamation 5548

Polish American Heritage Month, 1986
Strolling the streets of Greenpoint in October is, in many ways, a contemplative act of commemorating significant historical events alongside a sizeable Polish-American community that once thrived within the working-class, multi-ethnic immigrant enclaves of this northernmost industrial Brooklyn neighborhood. October is the month when, in 1608, the first Polish settlers arrived in the New World, first making their homes in Jamestown Virginia. It is the month when, in 1779, Casimir Pulaski, a Polish nobleman and "Father of the American Cavalry" died. And it is on this month when, in 1937, the first parade paying tribute to this American Revolutionary War hero would have Polish-Americans marching in the streets of New York City to celebrate their heritage.
It is a heritage preserved and honored over generations, as successive waves of Polish immigrants during the industrial peak of the 1880s-1920s sought better economic lives, establishing their homes and businesses in Greenpoint — a pictorially-named neighborhood that conjures its historic bucolic terrain of fields and orchards before it would be nicknamed "Little Poland". And while much of the district now shows accelerating signs of gentrification, it is still comforting to discover indelible marks of Polish-Americans' lingering presence, woven into the neighborhood's culinary, religious, and social fabric. Here, amidst the ongoing ubiquity of Brooklyn's expensive high-rises, trendy nightlife, upscale restaurants, hip boutiques and waterfront developments — all signaling the vanishing of long-standing ethnic communities forged over the span of the city's industrial decades — one can still turn a street corner in Greenpoint to hear the Polish language spoken; enter a meat market to find kielbasa or golonka, catch a whiff of bialys and bagels, have a meal of bigos or pierogi, and explore hidden treasures that tenaciously uphold the neighborhood's persevering Polish identity.
Here is a guide to some gems of Polish food and culture still found along Greenpoint's main thoroughfares, inviting you to explore its offerings, beckoning you to return for more! (Please note that, at the time of publication, these places are still gratefully in operation!)
* * *
Where to eat …
Polka Dot | 726 Manhattan Ave, TripAdvisor
Unassuming cafe providing traditional Polish food & a walk-up window for coffee & tea. Serves Ukrainian Borscht, perogies, and a wide range of smoked kielbasa in the shop, which is adorned with Polish knickknacks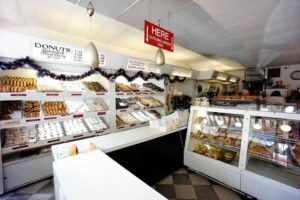 Peter Pan Donut & Pastry Shop | 727 Manhattan Ave, Website
A neighborhood staple for over 60 years, specializing in handmade doughnuts
Frankel's Delicatessen & Appetizing | 631 Manhattan Ave, Website
A contemporary take on a classic Jewish deli, the best-known bagel and bialy spot in Greenpoint.
Karczma Polish Restaurant | 136 Greenpoint Ave, Website
Serving the community for 13 years with authentic Polish cuisine in a rustic farmhouse
Christina's Polish Restaurant | 853 Manhattan Ave, Facebook
Hearty Polish-American faves in a casual setting with exposed brick, wooden tables & tile floors. Offers "home cooking away from home"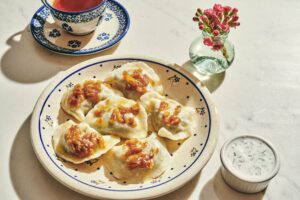 Pierozek | 592 Manhattan Ave, Website
A warm and inviting spot for hand-made pierogi from a husband-and-wife team
Old Poland Bakery | 926 Manhattan Ave, TripAdvisor
A variety of breads, pastries, and confections echoing Poland's baking traditions. Cheese cakes, raisin loaf, and poppy seed pastries are highly recommended
Syrena Bakery | 207 Norman Ave, Website
A fixture in Greenpoint since 1993, they are known for paczki, or Polish doughnuts, and babka
* * *
Where to shop …
Biedronka | 854 Manhattan Ave
A Polish grocery store that focuses mostly on packaged and nonperishable foods and should be your one-stop-shop for pantry staples like chocolate, canned meats and veggies, jams, and teas
Kiszka Nassau Meat Market | 915 Manhattan Ave, Article
An iconic institution that has served the community for nearly four decades with ts store-made specialty sausage and meats
Driggs Meat Market | 160 Driggs Ave, Website
Polish groceries, cold cuts, sausage, homemade food, beer
* * *
Where to take picturesque photos while exploring history …
Pulaski Bridge over Newtown Creek, Wiki
Named after Polish military commander and American Revolutionary War fighter Casimir Pulaski in homage to the large Polish-American population in Greenpoint, the bridge connects Long Island City in Queens to Greenpoint in Brooklyn over Newtown Creek.
Kosciuszko Bridge, Wiki
Named after Polish military leader Tadeusz Kościuszko, who fought alongside George Washington's Continental Army in the American Revolutionary War, this cable-stayed bridge over Newtown Creek connects Greenpoint in Brooklyn to Maspeth in Queens.
Saint Anthony of Padua Church | 862 Manhattan Avenue, Article
The ornate high gothic-style church clad in brick and accented with limestone was built in 1875.
St. Stanislaus Kostka Church | 607 Humboldt Street, Article
Iconically Polish Greenpoint, it is home to the largest Polish Catholic congregation in Brooklyn. As Cardinal Karol Wojtyla, Pope John Paul II, the Polish Pope, prayed in the parish during his 1969 visit to New York City.
The Bomelstein Jewlers Sidewalk Clock | 733 Manhattan Avenue, Article
The last remaining street clock in Brooklyn, and one of only four that remain in the city. Designated a landmark in 1981.
Polonia Book Store | 882 Manhattan Avenue, Facebook
Independent bookstore serving Greenpoint for over 20 years with authentic polish literature, folk art, gifts, toys, Polish souvenirs and everything else!
We invite you to join us for our Brooklyn Walking Tour to learn more of the borough's industrial age and the many immigrant workers of its neighborhoods. If you wish to explore Greenpoint at your leisure and catch further glimpses of Polish art, food and culture, you can take the G subway line to Greenpoint Avenue, or the East River Ferry to India Street.
Sources:
Vanishing Polish Greenpoint by Geoff Cobb, Link
Exploring Brooklyn's Greenpoint: A Gem of a Community by Keith Loria, Link
Greenpoint's Little Poland, Then & Now, Link
This isn't Little Poland Anymore – The Brooklyn Ink by Natalia Ewa Ryzak, Link
A History of Polish Immigration to New York, Link
"Little Poland": Mapping the Polish Community in Greenpoint, Brooklyn by Charlotte Blumenfeld, Link