New York City's Greenwich Village (PT. 1)
A Portrait of its Heritage Treasures through the Eyes of Children
One of the most pleasurable — and at times, memorable! — moments on a stroll is overhearing sidewalk conversations that pique our interest, engage our curiosity, charm our sense of humor, and have us trying to delve for our own answers!
With each NYC neighborhood having its own personalities and quirks that animate imaginations into further flight, children have proven to have the most wide-eyed lenses, compelling expansions of our own observations and perceptions. Immediately drawn to the alluring, the strange, the curious, children will attune their heightened senses to absorb all around them … often (and most always!) leaving parents or guardians with the challenge of answering that perpetual child's question, "But why? …."
Here, we present a dozen questions on Greenwich Village that we have kept in our hearts' sacred vaults. While we cannot claim to know every parent's or guardian's response (often starting with, "Hmmm", or "Well, uh, …." or "Because that's the way it is…"), we thought we'd take our editorial broadstroke brushes in our own childlike ways for a palette that captures a neighborhood's stories … a gathering of questions overheard at its famous sites or attractions. So here is a collection that paints a delightful portrait of a neighborhood through some of its heritage treasures, with answers for children's rating and review. Enjoy!
While introducing the neighborhood…
Where does the name Greenwich come from? And why is it called a Village?
This area has had many names over the last 400 years. First, it was called Sapokanikan by the Lenape who camped and fished by a trout stream called Manetta (today's Minetta Lane). When the Dutch arrived on Manhattan island and established a colony called New Amsterdam in the 1600s, this area was given the name Groenwijck ("Green District"). When the British, in turn, took the island away from the Dutch and renamed New Amsterdam to New York, Groenwijck was anglicized to "Greenwich". This name has been retained ever since.
During those earlier times, this area was its own little "village" — remote and isolated from the "city" which was located further south (an area we now call Lower Manhattan or Financial District). But even today, New Yorkers still commonly refer to it as "The Village" because, in many ways, despite NYC's burgeoning development and population increase, it still retains a quaint residential unique character that makes it feel like a "village".
While strolling around…
Are "Greenwich Village", "West Village", "East Village" the same neighborhoods?
Not quite. They blend into one another, but have different boundaries and energies. Due to increasing urbanization through population and territorial growth over the centuries, what we now call Greenwich Village — as shown on current NYC maps —is an expansion from its original colonial-era boundaries. Today, the area is roughly bounded by Broadway to the east, Hudson River to the west, 14th Street to the north, and Houston Street to the south, encompassing all of the West Village and parts of the East Village.
What we call the West Village is the original Greenwich Village (or "Green District") when it was that tiny Dutch-then-British village on the shore of the Hudson River. It is easy to know you are strolling in the West Village because you feel you are still in a primarily residential historic neighborhood where you can get lost, as paths go off the north-south grid of Manhattan's easily-navigable numbered streets and avenues. The traditional boundaries of the West Village are the Greenwich Avenue to the east, the Hudson River to the west, West 14th Street to the north, and Christopher Street to the south.
What we call the East Village, on the other hand, has always been considered part of the Lower East Side up until the 1960s, when new residents preferred to be associated with Greenwich Village and came up with the name "East Village". It is technically all east of Fifth Avenue and — in counterpoint to its more serene western counterpart — is especially attractive to a younger crowd for its funky, grungy, gritty vibe.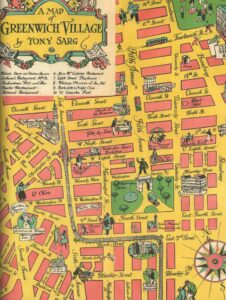 At a Triangle Intersection…
I feel I'm getting lost…. or confused! Why do some streets have names? And others have numbers?
You are not alone. New Yorkers get very confused, too!. Attempting to give clear directions to destinations can prove challenging, especially when we find ourselves at an intersection where West 4th Street, 8th Avenue,and Jane Street meet.
The Village's irregular street pattern mostly dates to the colonial era of the 1600s and 1700s, when it was a remote rural area on the island of Manhattan. That changed in the years following 1811, when the city began surveying, mapping, and laying-out Manhattan's Grid — this refers to the island's north-south Avenues intersecting east-west Streets. The West Village kept its original off-grid street pattern, but the East Village developed around the grid's rectilinear layout.
Along Bleecker Street…
Why is the street called Bleecker?
Many of the streets in the West Village are are named after family members whose farm properties once covered the area. In this case, this street was named after the Bleecker family's head — Anthony Lispenard Bleecker. He was a wealthy landowner, merchant, auctioneer, banker and vestryman, and warden for the Trinity Church in the Financial District.
When the Bleeckers probably tracked the northern edge of their farmland, little would they know that they would be paving an eponymous street whose role in the rich cultural narrative of New York City would be unparalleled. Bleecker Street has been home to some of NYC's most iconic coffee shops, bookstores, jazz clubs, and federal-style row houses; it continues to be a magnet for many artists, poets, musicians, politicians, trailblazing social activists and more. It was the bars and clubs that line Bleecker Street and the surrounding area that helped popularize folk music in the 1950s-1960s, ushering in the counterculture phenomenon and literary movement of intellectual radicals known as "The Beat Generation".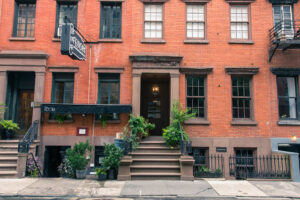 Along many quaint, tree-lined residential streets…
Where did all the bricks come from?
We have Mother Nature to thank for brick — one of most foundational and ancient of building materials found in the earliest of civilizations dating back thousands of years!
Here in New York City, the story of brick begins with the last ice age, remnants of which are prominently visible everywhere. If we were to take an hour's drive from the city to a Hudson River town called Haverstraw — about 39 miles north of Greenwich Village — we will arrive at a hidden gem: The Haverstraw Brick Museum. With well-documented manufacturing records — and preserved brick samples on display — it is a treasure trove showcasing the story of a community, whose industrial destiny would be carved by the onslaught of 2-mile deep ice-sheets onto the terrain as it made its retreat 18,000 years ago. Here are some excerpts from the museum's website:
"Ice Age glaciers deposited huge amounts of clay along the banks of the Hudson River, making the Hudson Valley an important resource for early Dutch settlers to the Americas and the North Rockland region the center of the Brick making industry from the 1700's to the 1940's.
From 1815 on, brick-making became one of the Hudson River Valley's most prolific industries, with brickyards appearing along the Hudson as far north as Albany.
In 1835, the Wall Street Fire devastated 674 buildings and 13 acres of New York's financial district, leading to a change in building codes increasing demand for buildings made with bricks. Thanks to the Hudson River, Haverstraw's brick makers were well positioned to supply New York's exploding demand for bricks."
By the 1880's, there were over 40 brickyards in the Haverstraw area with brick-making becoming a way of life in the Hudson River Valley. Manufacturers took advantage of easy access to New York City and Midwestern markets via the Hudson River and Erie Canal. In a single year, over 300 million bricks were being shipped out of Haverstraw Bay to the New York metropolitan market, which at the time, was using more than one billion bricks annually."
Thus, as we stroll the Village and see its varied array of bricks in their rich hues — enchanted by its facets ("bonds", "mortar","joint", course") — remember the brick manufacturers and bricklayers to whom we owe a debt for the places that are our sanctuaries. Theirs was a job as humble as it was essential. By 1883 — with 41 brickyards operating in Haverstraw, employing an estimated 2,400 men, Haverstraw Brickyards, at one point, were making 300-million bricks a year and they were responsible for providing bricks for almost two-thirds of the buildings in New York City.
Perhaps no other prominent figure in contemporary history exemplified — or fully appreciated — the brick manufacturer's or bricklayer's foundational role more than Sir Winston Churchill. A master at the trowel and mortar and a qualified member of the Amalgamated Union of Bricklayers, one of our world's greatest military leaders enjoyed brick-laying in his spare time, building brick walls and other structures at his beloved country home Chartwell, including a Brick Doll House for his youngest daughter. While at work on a book at the time, he wrote with satisfaction of laying "200 bricks and 2,000 words a day." A reminder that it is not the title that counts, but the effort to succeed at the job at hand.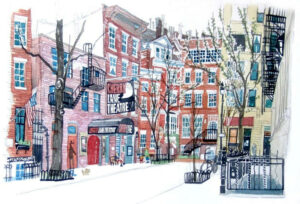 On meeting a street artist…
He has so many paintings! What is he painting right now?
We are so fortunate to run into Kazuya Morimoto, a well-known neighborhood artist who has devoted almost 15 years to painting every possible scene, street, and story of his beloved Greenwich Village as he sits at random corners to frame his views! Friendly, approachable, unassuming, and generous with his time and talents, Kaz welcomes anyone who stops by to browse his extensive sidewalk gallery, chat with him to share a neighborhood anecdote, or interview him for an always insightful article that is as much affectionate tribute as it is journalistic feature story.
Celebrity residents of the neighborhood — including Liv Tyler and Sarah Jessica Parker —have purchased his paintings; as have locals or visitors who manage to find him, charmed by his portrayal of street scenes that capture a historic neighborhood at a specific moment — an encapsulation rendered even more priceless for its transience and ephemeral quality. Name any street, corner, storefront, landmark, tree, park, home, season, dog … and it is most likely guaranteed that Kaz — committed to historic preservation via a magical, whimsical and lighthearted stroke of pen and brush — would already have anticipated your request to own a treasured creative piece of history, heritage and art. With much changing around the city, evidenced by rising glass towers overshadowing historical neighborhoods, Kazuya Morimoto's archiving of daily living in Greenwich Village may unwittingly be taken for granted. Yet by memorializing what may one day disappear, his work ultimately becomes a collector's heritage treasure.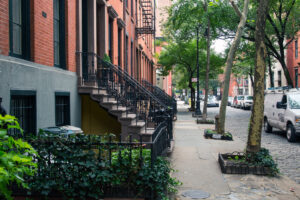 Along Perry Street…
Why do some homes have only 3 steps and others have more than 10?
There was a time when the city did not have cars, bikes, Ubers, scooters. Instead, it had horses. Plenty of them. With all of them piling up streets with manure and urine.
The city estimates that by 1900, the population of 100,000 horses produced 2.5 million pounds of horse manure per day, which all had to be swept up and disposed of. Then, too, were thousands of abandoned horse carcasses left to rot on the streets. Until a solution was found, this largely determined one of the most distinctive features of historic neighborhoods like Greenwich Village: the typical elevated staircases — "stoops" (the Dutch word for "steps") — to the houses, assuring living quarters remain above the "seas of manure".
With the opening of the Erie Canal in 1845, there were more people and goods in and out of Manhattan, more horses for transport, more manure to outcompete the increasing number of steps to a home. But these "stoops" are not the only signs of the horse-dominated city. Throughout Greenwich Village are still found stables and horse carriages, boot scrapers at the bottom steps, and the occasional pub with an iconic horse logo or trademark — all a nod to the equine history and its impact on the city.
Along West 4th Street…
What are those glass houses on the roofs? Does anyone live there?
With Greenwich Village as home to many noted artists, one of the most notable and unusual features to be primarily found in this creative neighborhood is the array of handsome "artists' studios" with large "studio windows" or "skylights" to capture maximum sunlight.
Randomly found along residential streets, former stables and townhouses top floors have been converted to artist studios and can be seen on West 4th Street, West 9th Street, in MacDougal Alley, and Washington Mews. They not only contribute to the character of the district, but comprise some of the most desirable real estate in the city with its premium on sun, air and views.
But the "artist's studio" had a far more cramped beginning. Previously incarnated as uppermost-floor spaces with very low ceilings for servants, their potential to attract the creative set was evident to property owners keen on the unconventional: "Let's raise all or part of the roof, insert a large industrial casement window, leave wide open floor space … and here we have the height, breadth, and width of an artist's studio!" Sure enough, the demand for what this offered has not abated since.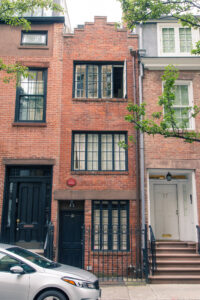 Along Bedford Street…
How can anyone live in such a narrow house?
Most New Yorkers — especially those on limited budgets — tend live in small spaces due to high rents. But this is made with the outdoors always attractive with strolls, walks, activities in museums, parks, restaurants, coffee shops, book shops, theatre attractions, social lives, and more! In fact, Manhattanites are master interior-decorators of the 350 square foot space and manage to make their homes quite comfortable!
If you were a working artist like Edna St. Vincent Millay, or Cary Grant, or John Barrymore — who all lived in that very narrow house — it is likely your were not home much, needing a space just to sleep for the night, or to store a few clothes. They were all busy going around Greenwich Village and the city to find work, or to meet with other fellow artists in gathering places like coffeeshops, bookstores, theatre performances or events where they could meet others of creative inclination …
Along Crosswalk by Stonewall Inn…
Look, colors on the street!
In 2017, the NYC Department of Transportation — in solidarity with the LGBTQ community — painted a rainbow crosswalk with the Pride Colors at the iconic intersection of 7th Avenue and Christopher Street outside Stonewall Inn, a gay bar and national historic landmark honoring LGBTQ civil rights. The bar was the site of the 1969 riots that launched the gay rights movement and is now part of a national monument.
If you "walk the rainbow", you will cross 8 colored stripes, each color representing a different meaning as originally conceptualized by Gilbert Baker for an 8-striped Pride flag which debuted in 1978. They are: hot pink for sex, red for life, orange for healing, yellow for sunlight, green for nature, turquoise for art, indigo for harmony, and violet for spirit.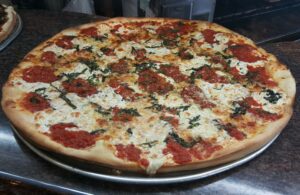 At Bleecker Street Pizza…
How many kinds of pizzas are there?
Today it is hard to keep count, as the whole world is now making their own pizza! Chicago has the deep dish style; Korea has kimchi on theirs; Japan has Teriyaki Chicken Pizza; Peru has bison or alpaca with rococo rellenos on theirs … and the creative culinary variations are endless, including — for better or worse — a Chocolate Pizza! You can add any combination of toppings on your slice — pepperoni, vegetables, mushroom, et.al.
Pizza was first invented in Naples, Italy as a fast, affordable, tasty meal for working-class Neapolitans on the go. Here in NYC, the "original NYC-style pizza" pays tribute to its Neapolitan traditions and also has simple ingredients — tomato, mozzarella, flour, olive oil … (plus the mythological secret to its yumminess: NYC Tap Water!)
To quote Wikipedia on the must-have's involved:
"New York–style pizza is pizza made with a characteristically large hand-tossed thin crust, often sold in wide slices to go. The crust is thick and crisp only along its edge, yet soft, thin, and pliable enough beneath its toppings to be folded in half to eat."
Here at multi-award-winning Bleecker Street Pizza, we are having the famous Nonna Slice — "Nonna" is an Italian's endearment for "grandmother". Like the many celebrity-customers whose photos are featured in a wall gallery, we can never get enough of its thin crunchy crust, delicious tomato sauce, gooey mozzarella cheese, and — most importantly, the challenge of savoring a huge slice by mastering the art of the pizza-fold!
At the Church of Our Lady of Pompeii…
Who is Father Demo? Is it a Roman Catholic Church?
With the fast pace of changes in New York City, residents come and go, but leave their mark in one way or another. If we ever wanted to know which immigrant or ethnic communities used to live in certain neighborhoods, all we have to do is to try to locate original places of worship or associated food vendors and venues.
Our Lady of Pompeii Church — a Roman Catholic Church — gives us a clue that this section of Greenwich Village was once a neighborhood for many Italians, during a period of extensive immigration from Italy to the United States. But nearby were African Americans next door, the Irish Americans to the West, the well-to-do Protestants to the north, and many artists and writers who resided around Washington Square and frequented "Little Italy" for Italian coffeeshops like Caffe Reggio or San Remo.
The Church was founded in 1892, with Father Antonio Demo — serving the parish between 1899 and 1933. He not only supported the congregation's spiritual needs, but also served as a counselor, reference, and an intermediary with the government and outside social welfare agencies.
Maps from the 1930s not only show the church, but the locations of food vendors servicing the Italian community that thrived at this time. Many Italian businesses from that era have long disappeared, but some old-school butchers (Ottomanelli's and Faicco's) and pastry shops (Rocco's) are gratefully still around today.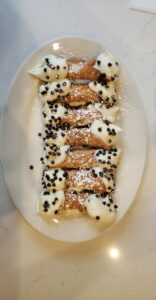 At Pasticceria Rocco…
Why is it called a cannoli?
A cannoli is an Italian pastry dessert from the island of Sicily, in the form of hard tubular shells filled with sweetened ricotta cheese or mascarpone, and often containing nuts, citron, or chocolate bits.
The singular cannolo — meaning "little tube" — comes from canna, for the river reeds that were cut into sections and used as a mold to fry the pastry shells. The plural cannoli — referred to as "cannoli siciliani" in Italy — is a term we more commonly use, whether we have one piece of this delicious treat, or more!
At Cafe Wha?…
What does that name mean? And why is this place famous?
Once upon a time, many decades ago, there was a man named Manny Roth who came across this former underground horse-stable-turned-garage, and decided to fix it up by painting the walls black, putting in marble tiles, and inviting many starting musicians and comedians to come in and do their acts.
At the time Roth opened this place in 1959, the musicians and comedians were not famous. They were young artists struggling to make a living, and he gave them a venue to perform their music or their standup routine so they could earn a few bucks.
At first, the place had no name. Many artists just knew where to find the subterranean hole-in-the-wall on the corner of MacDougal and Minetta. But years later, Manny's nephew — Van Halen's David Lee Roth — explained that the name comes from an exclamation made famous by his Russian Jewish grandmother.
With her broken English, Manny's mother would growl "Wha?" when at a loss for a comment or answer.
Hence, the name "Café Wha?"
Today, those artists who had their first gigs as young kids trying to make a living include Bob Dylan, Jimi Hendrix, Bruce Springsteen, Peter Paul and Mary, Peter Seeger. There are countless more. All of them started at Cafe Wha?. When no one knew who they were.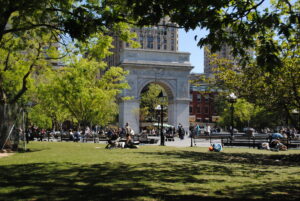 At Washington Square Park…
Is it true it's haunted?
Some feel it is spooky at night. Others say they hardly feel the presence of ghosts.
But, the entire park used to be a potter's field — a "common" burial ground — during a time in our city's history about 200 years ago, roughly 1797-1825, when there were few cemeteries, no more burial spots available, and marginalized groups of people were too poor to afford interment on church property. It is believed there are up to 20,000 bodies buried, and these included the indigent, slaves, indians and victims of yellow fever.
But if the spirits are restless, they may simply be crying out without intention to harm. Perhaps all they need is a respectful greeting, bidding them rest and peace as you tread their sacred grounds. Many of them departed Earth, unknown to us. Yet their lives paved the way for what we enjoy and take for granted today.
Everywhere…
Look, another dog! How many dogs are there in NYC?
Yes, Greenwich Village is known as the neighborhood to not only people-watch at Washington Square Park, but to especially dog-spot along all residential streets as well! According the last pet census we could find on record (2017-2018), there are roughly 1.1 million pets in the city — 600,000 dogs and 500,000 cats. But no doubt, that number is now way much higher!
The census data— gathered from pet store receipts, dog license records, and veterinarian records — gives us all delightful trivia and facts about our beloved 4-footed (4-pawed?) family members. It answers questions like: What is the most popular dog? ("Terrier"). What is the most popular name for a male dog three years in a row? ("Max"). And the female name? ("Bella"). If we want to have some fun exploring the city's range of canine names, spend some leisurely time with this Visualization of Dog Names (https://a816-dohbesp.nyc.gov/IndicatorPublic/dognames/). It might inspire us into remapping where all the Max's and Bella's actually reside!
Meanwhile, it seems resoundingly clear that dogs have privileged accounts under their name as well. The other day, we overheard a lady on her phone; she must have been putting an order at a store for her pet. Our ears perked up and our smiles widened when she suddenly raised her voice above the din of sidewalk click-clacking and clomps. "How much did you say it was??!!", she exclaimed, dumbfounded. "Oh, okay, then. Just put it on the dog's tab …"
* * *
Should you — or your child — have a question about the Greenwich Village or any neighborhood, do send them in. Or, for the pure pleasure of discovery and exploration, we invite you to join our food & history tour of Greenwich Village, and have you asking more!