DUMBO: NYC's Instagrammable Wonderland
Your Guide to Exploring an Immersive Living Postcard
Picture a neighborhood with gorgeous skyline views, cobblestone streets embedded with railroad tracks, docks and piers, and vestiges of a long-gone industrial powerhouse. Where, in the course of the last few decades, this abandoned manufacturing district would be the transformative canvas against which thriving art, technology and small business communities would converge, converting empty factories and warehouses into stratospherically-priced residential and commercial living spaces. Long ago, the neighborhood carried historic names lake "Rapailie", "Olympia", "Fulton Landing" and "Gairville". But it is now famously called DUMBO (acronym for "Down Under the Manhattan Bridge Overpass") — a legendary name that not only gives a hint to its location, but brings us back to the 1970s when a group of low-income artists, in adopting the desolate area as home, coined the moniker to dissuade developers from touching its then-gritty, deserted and isolated grounds.
But that hope for an under-the-radar existence would be short-lived. Bounded by Brooklyn Bridge Park to the north, the Brooklyn Bridge to the west, Brooklyn Heights to the south and Vinegar Hill to the east, the relatively small 32-acre district would be purchased in 1979 by real estate developer David Walentas for $12M — a steal at $6/sq. ft. Before long, DUMBO's derelict industrial spaces would take on new life as luxury lofts and creative hubs — magnetic attractions for anyone wishing to partake in the low-key neighborhood's galvanizing undercurrents that seem to indicate a perpetual resurgence of change.
Here we give an overview of DUMBO's many industrial, technological and creative cultures over time.
About its Industrial History …
In the mid-1800s, as the Industrial Revolution took off, this area was known to produce many Brooklyn-born inventions we now take for granted. Many of the buildings stored coffee (Arabica Coffee), sugar (Domino's), corrugated boxes (Robert Gair Co.), scouring pads (Brillo Manufacturing Co.) and other products for the city (water meters, et, al.)
In the wave of deindustrialization which accelerated after World War II, many industries left the city. With the construction of the Brooklyn-Queens Expressway (BQE) in the 1950s further isolating the district, the creation of slums caused a steady downfall lasting for about 40 years. Walentas' $12M purchase for the 32-acre district in 1979 would prove a catalytic, epoch-changing event for the industrial wasteland. In 1981, his Two Trees company bought several properties with a vision of highlighting arts and culture as an integral player in the development of the neighborhood and its waterfront.
About its Tech Revolution …
The tech boom of the late 1990s helped fuel DUMBO's growth, as Manhattan's rising rents made Brooklyn's relatively lower costs more attractive to an influx of entrepreneurs who sought the kinds of spaces DUMBO could offer. In 2005, for example, Etsy's founders created their online marketplace in a Brooklyn apartment. Today, with DUMBO currently having the city's highest concentration of pioneering and fast-growing technology firms (it is home to 25% of New York-based tech firms and startups), the neighborhood's residents are primarily young professionals in the industry. Distinguished for innovation and affluence, DUMBO is known for its high-end loft spaces, upscale restaurants, trendy cafes and pricy independent businesses.
About its Creative Renaissance and Attractions …
While DUMBO is usually among the priciest of Brooklyn neighborhoods, it has many treasures to share with all locals and visitors alike, many of them either free or within affordable range! Here we provide a guide to some of our favorite adventures: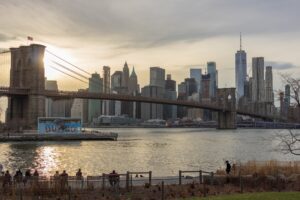 Where to Instagram those iconic skyline views …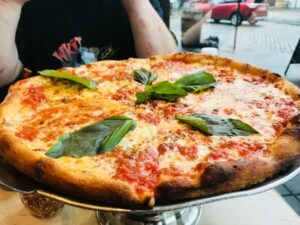 Where to eat …
Where to drink …
Where to explore history …
Where to read more …
We welcome you to join us for our Half Day Brooklyn Walking Tour to dig deeper into the narratives of DUMBO and its neighboring historic districts. You will come away with an appreciation for how this former industrial wasteland is now a much sought-after destination.